Mortgages for your Pittsburgh Home
When you get your mortgage through SSB Bank, we'll make you feel at home. As members of the Pittsburgh community ourselves, we are happy to help you become our neighbors! Whether you're financing your first house, an investment property, or the home of your dreams, our goal is to get you financed as quickly and as easily as possible. Working with SSB to get your mortgage gives you many advantages:
Low origination fees

Competitive interest rates

Personal, hands-on guidance throughout the process

Quick, local decision-making

Direct, in-person service, whether you call or come into one of our branches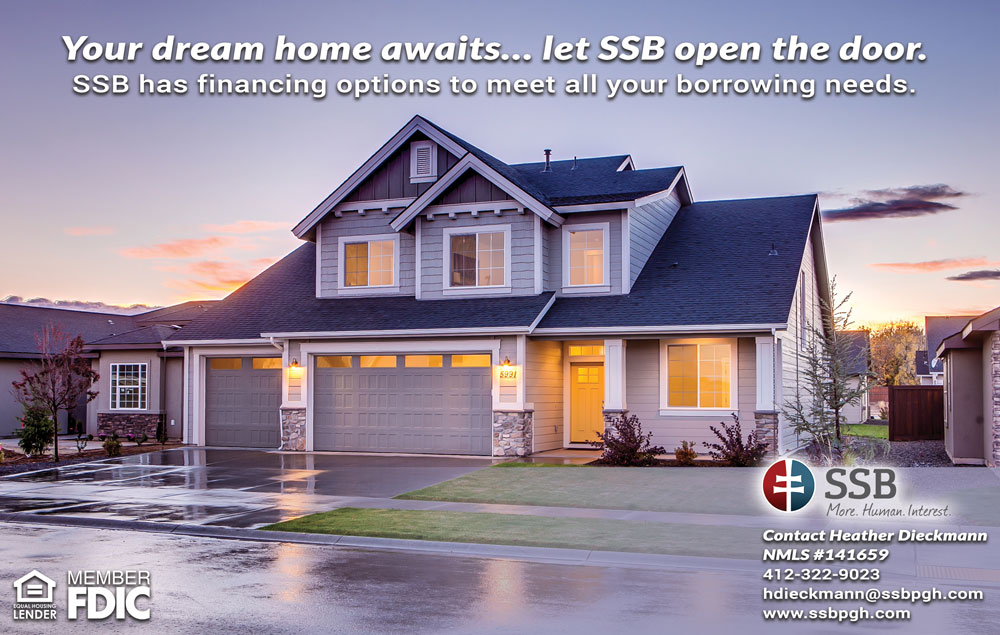 ---
Mortgages Offered by SSB Bank
Fixed Rate Mortgage
Consistent payments for the life of your loan, with the same rate for 10 to 30 years. May be preferred if you are expecting to stay in the home for the entirety of your loan term.
Adjustable Rate Mortgage
A set rate for a certain period of time, then the rate will adjust (dependent upon market conditions). May be preferred if you are expecting an increase in income or are planning to live in the home for only a short period of time.
FHA Loan
Government loan with more flexible qualifications if you meet certain criteria, such as being a first-time homebuyer. Down payments as low as 3.5%. Fixed and adjustable rate options available.
VA Loans
Home loan option for active military, veterans, reservists or National Guard members (or their spouses). Little or no down payment requirement. Fixed and adjustable rate options available.
---
Get More Information About Mortgages with SSB Bank
When you're ready to buy a house, the big question is, "How much can I afford?" Use our easy online mortgage calculator to estimate what your monthly costs would be for different home prices, down payments, and loan terms.
If you're ready to get prequalified for a home loan, contact Heather Dieckmann, Mortgage Loan Originator at (412) 837-6955.
Not quite sure where to start? We're ready to help. Contact us below so we can assess your needs and help you make the smartest decisions for your home loan application.