Your life is always on the go. Now, your SSB Bank account goes with you.
Download the "SSB Bank PGH" or "SSB Bank Biz" Mobile Banking app via the Play Store or iTunes Store. Our mobile banking app provides our customers with safe and secure access to your SSB Bank accounts wherever you are via your iPhone, tablet, or Android device.
With the SSB Bank Mobile Banking app, you can:
• View accounts and history
• Check balances
• Transfer funds between accounts
• Deposit checks
• View monthly statements
• Set alerts and freeze accounts
• Utilize picture payment
• Use single button icons to contact a branch for assistance
• Connect with us on social media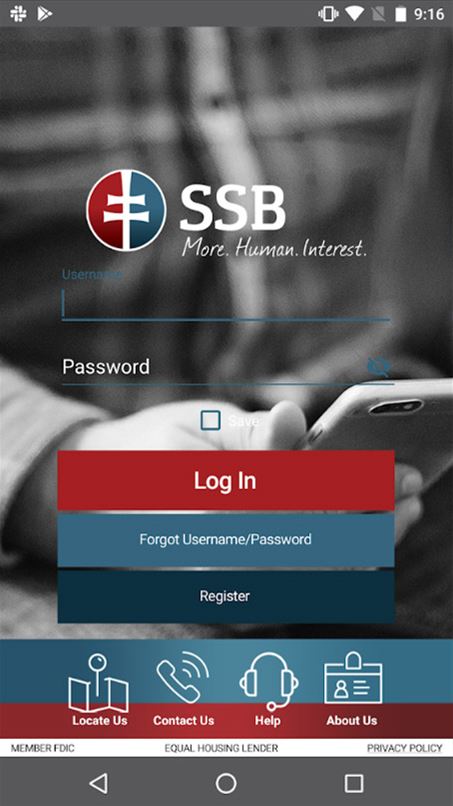 Download the SSB Bank mobile app from the Apple or Android App store and create a mobile banking account.
Tap the three-line icon to open the menu and find out all of the things you can do on the go including transfers, checking your balances, viewing statements and making deposits.
View your account balances and make transfers on the go. Easily search your recent transactions to keep up with activity on your account quickly and easily.
Using mobile check deposit, you can deposit money to your account by snapping a picture of a check.
Everything you need to know about SSB Bank and your account can now be easily accessed on-the-go, including branch contact information.
Mobile Banking Help
How do I download the SSB Bank mobile app?
Click here to download the app for Android devices. Click here to download the app for Apple devices. Or, search the store for "SSB Bank Pittsburgh." The app is compatible with iOS 8.2 or later, and Android 4.2 and up.
Are there any fees or requirements for using the app?
The app is free at both the Android and Google Play stores. There is no fee to use it. You must be a current SSB Bank client in order to take advantage of all of the features. To learn how you can open an account, call us at (412) 322-9023 or visit our location.
How do I use the app to deposit a check?
Tap the three-line icon to open the menu. Tap "Picture Deposits." Hover the camera over the check you want to deposit, making sure to get the entire check in the photo. Follow the steps on the screen to confirm the deposit.
What should I do if I have questions about the app or my account?
If you need assistance with the app, please call us at (412) 322-9023.
Is this mobile banking app safe and secure?
Our app is fully secure and protected with industry-leading security features.
If you have any reason to suspect fraudulent activity or suspicious behavior with the mobile banking app or any other SSB Bank feature, contact us immediately at (412) 322-9023.