About SSB Bank, Pittsburgh's Local Bank
SSB is Pittsburgh's Local Choice for Personal & Business Banking Since 1922.


SSB Bank has been a local and independent bank based in Pittsburgh since 1922. We offer the banking products, security, and conveniences of our larger competitors, but with the care and commitment of our community bank roots. As we grow and develop with the addition of our North Hills branch, we look forward to providing the same community-oriented services that we always have.

Our History of Serving Pittsburgh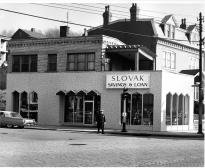 In 1922, Slovak Savings and Loan Association was formed by eight Slovak community members of the Northside. The first office was in the basement of the former St. Gabriel Archangel Church that used to be located on California Avenue. SSB Bank moved to its current Northside location at the corner of California and Superior Avenues in the late 1920's. At that time, Slovak Savings and Loan Association changed the charter to the Mutual Savings Bank – "Slovak Savings Bank".
In 2017, after their expansion to the North Hills, with the addition of a second location in McCandless, Slovak Savings Bank continued their efforts in providing community-oriented services to a new part of the city.
In September 2017 we changed our legal name to "SSB Bank."
Although we have grown, we still remain committed to our roots, valuing the customers and relationships we continue to build through positive banking experiences. SSB Bank has a rich history serving Pittsburgh's Northside community and surrounding neighborhoods. For many years, we have helped our customers buy their first home, save for vacations, and provide many businesses with capital to remain competitive through tough economic times. Our guiding principles are Commitment, Community, and Culture.
The Benefits of Banking with SSB
We're Growing
We're expanding and developing in the Pittsburgh region with convenient new locations.
We're Secure
We have a 4 layer authentication system (more than the usual 3 for extra security).
We're Nimble
Because we know you personally, we detect problems and suspicious activity faster than big banks.
We're Comprehensive
From personal and business checking and savings, to mortgages and loans, we have products for all needs.
We're Technological
We offer the new technologies and conveniences of online banking, mobile check deposit and more.
We're Personal
We provide personal service with no frustrating 800 numbers or automated customer service.


Come experience the SSB difference – where there is More. Human. Interest.
Become part of our tradition and open an account with us today.