Switching Banks Has Never Been Easier
The time is now to make the switch!
Changing banks can be a big decision that (in some cases) presents a lot of challenges and questions that may be hard to answer on your own:
What do I have to do to close my current accounts?
What should I do first?
What forms do I need to fill out?
These are just a few of the questions that many people face in making the big switch from their current bank to a new institution. At SSB, we recognize that having everything you need in one place can make this process significantly less stressful. As a result, we have compiled an SSB Switch Kit to walk you through the process and make it as simple as possible to join our bank family. In only four simple steps, you can transfer your personal banking account(s) to SSB Bank: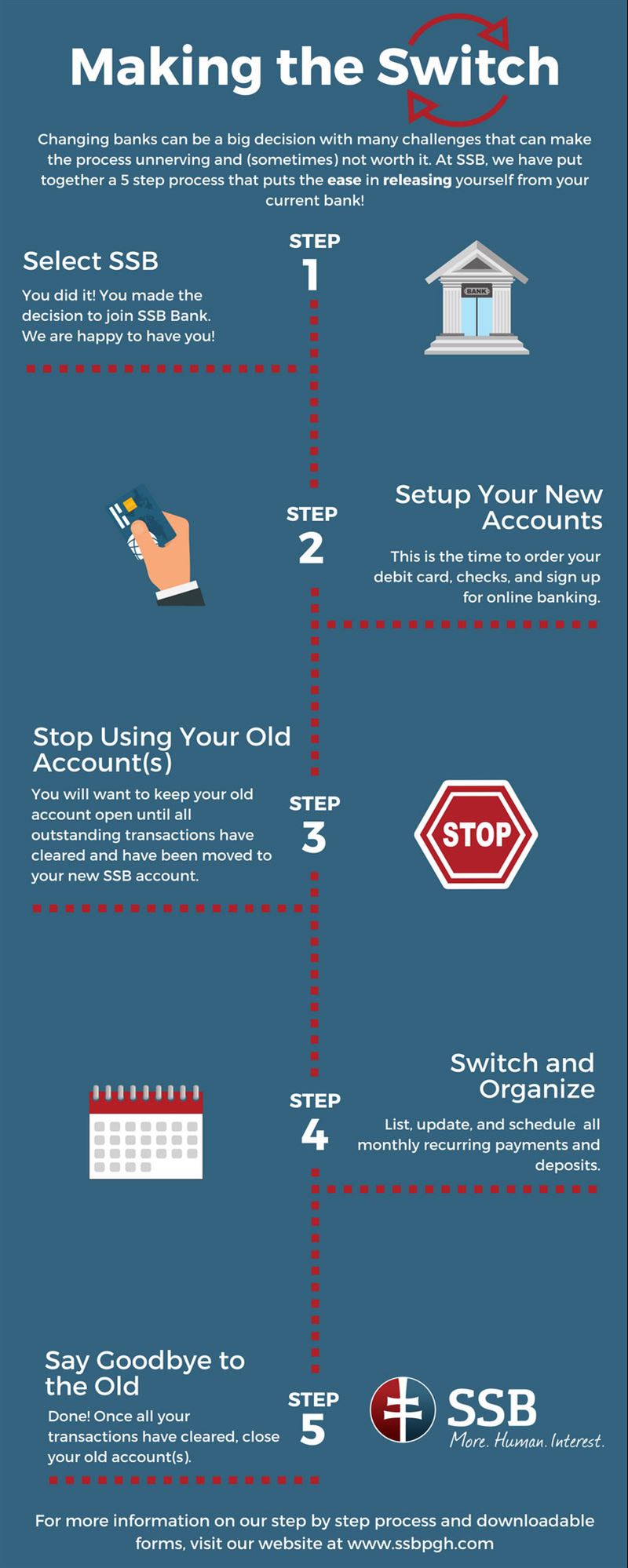 STEP 1:
Open your SSB Personal Checking and/or Savings Account(s) and make your first deposit.
You did it! You made the decision to join SSB Bank. We are happy to have you! Now it's time to think about what personal products and services best fit your needs and your lifestyle.
What accounts are best for me? We have staff available to help you determine what products and service options are available. Feel free to call or stop by your local branch to speak to a staff member about the various options, or view our personal product options and services here.
Are there additional things I need to order or setup initially? This is the time to order your debit card, checks, and sign up for online banking. Call or stop by your local branch, or feel free to fill out the contact form below for more assistance!
STEP 2:
Discontinue use of your old personal account(s).
Keep the old account open until all outstanding checks have cleared and you have moved scheduled transactions to your new SSB personal checking account.


STEP 3:
Switch your scheduled payments to your new account(s).
Remember to have your new checking account, routing number and debit card numbers and expiration date available when you switch your scheduled payments. Use the following worksheets to determine all payments that you need to consider updated.
Automatic Payment Request Worksheet
Automatic Payment Checklist
Direct Deposit Form
STEP 4:
Close your old personal account(s).
Once all your transactions have cleared, close your old account(s). Close your account(s) over the phone or in person. Be sure to ask for the account closures in writing.
Still have questions about how to make the switch?
Fill out our contact form below and we will get back to you as soon as possible to help walk you through the process: