SSB Partners with Variety to Give Back in a Big Way
Last year, SSB Bank learned about Variety- The Children's Charity and their mission for helping kids, be kids. Variety enables children with disabilities to live life to the fullest with a focus on mobility, communication, and social inclusion through their three programs: My Bike, My Stroller and My Voice. SSB Bank partnered with Variety last year to provide a local girl with a recumbent bike, and after the experience, they realized the impact of the program and the joy that came from their donation.
With that said, SSB jumped at the opportunity to sponsor the purchase of a communication device [iPad] for a young boy named Caleb in the Pine-Richland area when contacted by Zach Marsh, Community Relations Manager at Variety, a few weeks ago. Caleb, a spunky and vivacious four-year-old, requires support due to his physical limitations and difficulties with communication. These three items will make communicating, riding a bike, and transporting Caleb more efficient and provide him the chance to "live life and enjoy it". The bank staff had the pleasure of presenting the iPad, as well as the other two items purchased by Variety, to Caleb in a joyous celebration at the bank on July 25th, 2019.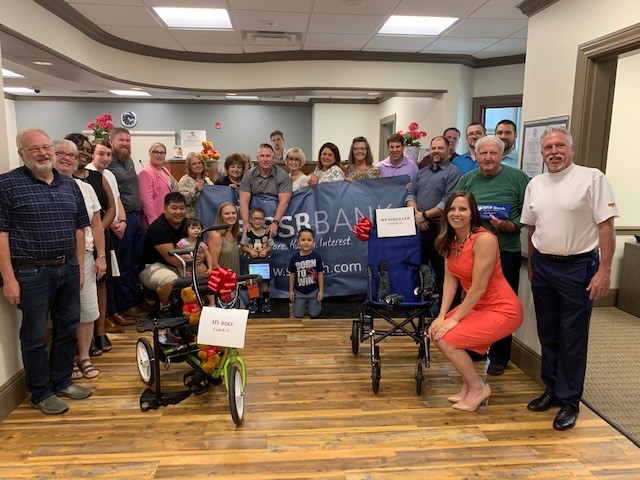 From the moment he arrived at the bank, Caleb was all smiles, repeatedly thanking everyone for his "presents". Caleb was joined by his parents, Crystal and Kevin, as well as his siblings and grandparents, for the presentation ceremony at the bank on July 25th. Zach provided some background on Variety and their three programs before giving Caleb's parents the opportunity to speak personally on the impact of this program and sponsors like SSB.
"He has been working a lot with the iPad in his speech program both in school and in outpatient therapy. It will be nice for him to have this [iPad] at home for him to practice his skills [and increase his vocabulary]. He has come a long way, but this will continue to help him improve with his speech. We are so thankful for the program and all of the sponsors. You make it all happen." - Crystal, Caleb's Mom
"We appreciate all the sponsors and we feel blessed to be a part of this program. Certainly, it will help Caleb to live life and enjoy it, so we are really grateful."
- Kevin, Caleb's Dad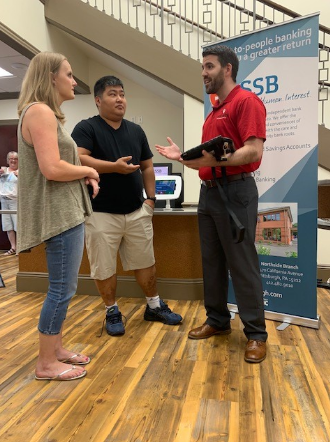 Similar to the year before, the staff at the bank were moved by the joy Caleb expressed when presented with the stroller, the bike and the iPad. It was clear that all three items would have a significant impact on his life. Dan Moon, the President and CEO of SSB, gave a moving tribute to the family and Variety on behalf of the bank.
"Every year, we thought we had to wait until Christmas to do sponsorships and to sponsor a family. We never got a chance, until last year when we found Variety, to do something [during the year]. We were able to give the bike [to a young girl in the community], and to hear this year we were able to give a voice to a child, it is just a no-brainer. We live for this. We love to give money out of our paychecks to wear jeans so that we can do things like this. We are proud. We are excited. Congratulations."
SSB Bank is a proud sponsor to many charitable causes in the communities they serve. To see a full list of their charitable contributions or inquire about partnering with SSB in the future for an event or sponsorship opportunity, visit the Community Connections page.