SSB Bank Sponsors the 2017 PCRG Community Development Summit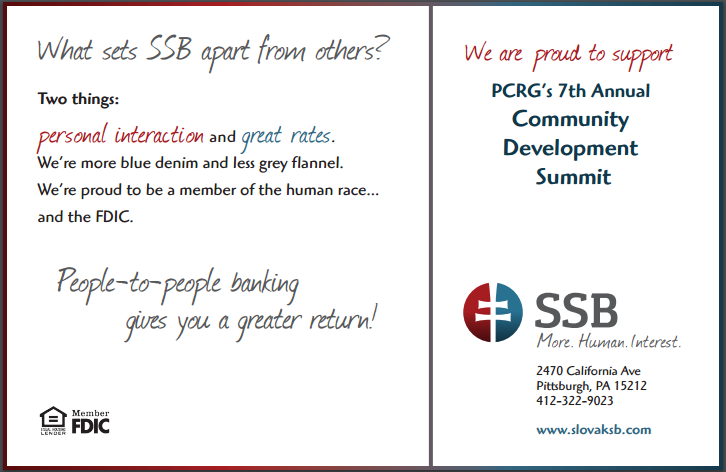 SSB Bank is proud to be a sponsor of the Seventh Annual PCRG Community Development Summit.
This year's event, titled CommUNITY: The Power of People in Action, celebrates real, actionable, holistic solutions to the problems in Pittsburgh's communities.
The summit helps bring together a diverse group of residents, entrepreneurs, investors, and developers to discuss the barriers faced by our communities. Throughout a series of workshops, presentations, and panels, solutions will be discussed that can unite people and politics. The focus will be on people, policies and practices that have helped Pittsburgh's marginalized communities overcome barriers to growth.
SSB Bank has sponsored this event for several years because it is in line with our vision of empowered citizens, innovative solutions, and community growth. We support the ideal of helping community members thrive and invest in themselves and their community.
The 2017 Community Development Summit will be held on May 24 and 25. For more information, visit www.pcrg.org/conference.