SSB Bank Earns PACB Region 1 Chairman's Award
The Pennsylvania Association of Community Bankers (PACB) exclusively represents the interests of the more than 70 community banks chartered in the Commonwealth. The association's mission is focused; to preserve, promote and protect the community banking industry and the mean and women who work to make the financial dreams of their communities and neighbors become realities.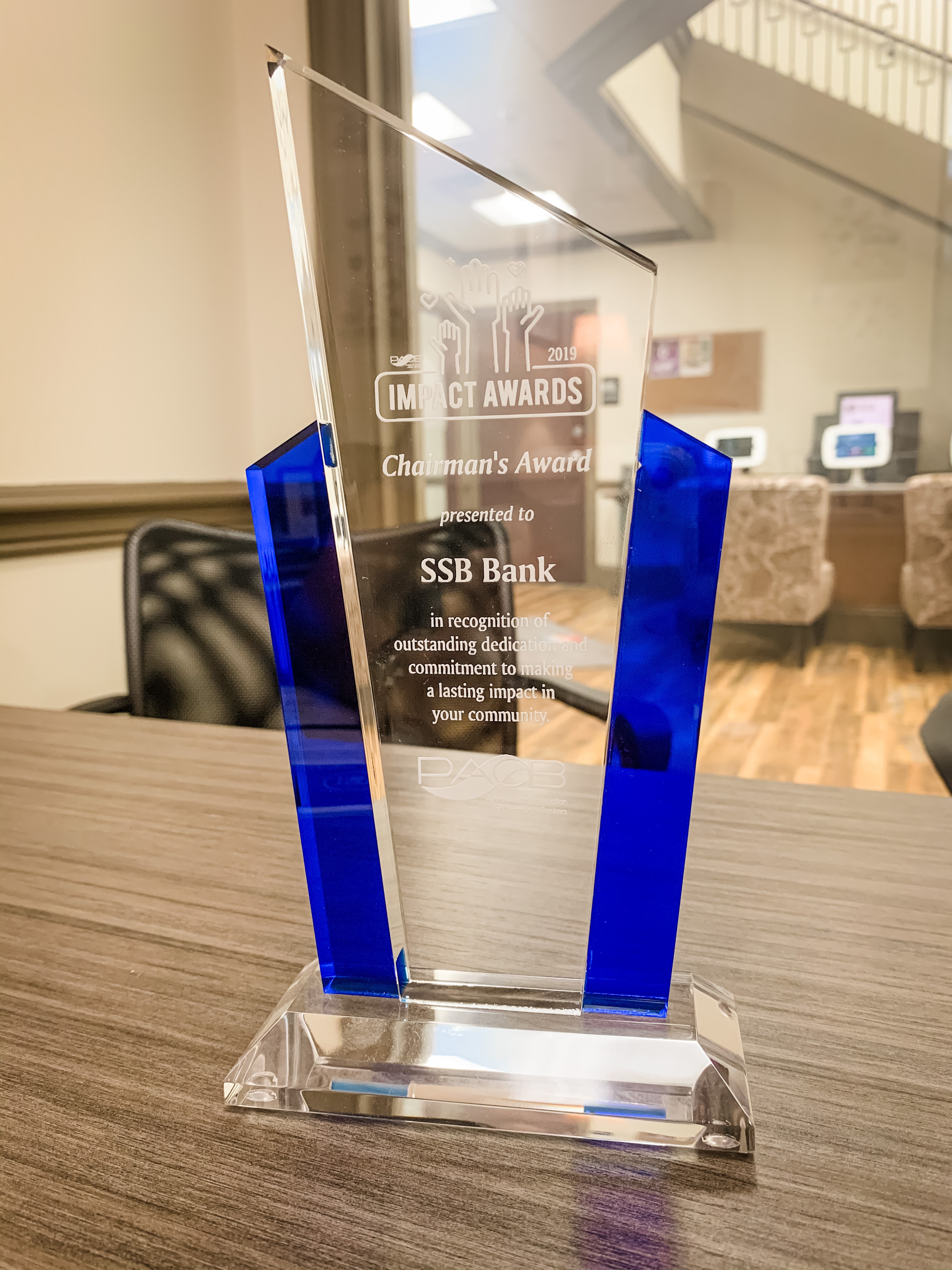 PACB holds banks that go above and beyond in their commitment to their community in the highest regard, and recognizes those members whose involvement in Pennsylvania's towns surpasses traditional and expected business practices. The PACB IMPACT Awards program is designed to honor PACB members who impacted their communities in meaningful ways throughout 2019. PACB believes that every day and every month of community bank service should be recognized. SSB earned the an IMPACT Award for our efforts in 2019 and as a result, we were featured in PACB's Hometown Banker Magazine. The magazine showcases stories from Pennsylvania's community banks.
The article summarizing our efforts is shared below:
SSB earned the PACB Region 1 Chairman's Award for their unique activities to support business and economic growth in their communities. Further, SSB's efforts involved all of their bank employees across two branches. The bank's website clearly identifies the bank's philosophy: "When you invest in us, you are helping us to continue to invest in the community." Employees are serious about supporting their community. They do everything they can to take action and get involved because they know their efforts grow the economy, support worthy organizations, and improve community relationships.
In 2019, SSB launched its Business Spotlight Series that provided a platform for small businesses to share their success with the local community. The bank profiled five local businesses and promoted their success across a variety of platforms, including publishing articles in the bank's community newsletter, sharing the stories on the bank's website, and engaging a larger conversation on social media.
SSB proudly served as the main sponsor for Pittsburgh Community Television's Greater Pittsburgh Community Media Awards to celebrate local achievements in community television that showcased activities throughout Bethel Park and Moon Townships in Allegheny County.
SSB underwrote the purchase of communications equipment for children with disabilities, supporting the mission of a local charity called Variety — the Children's charity. Employees were given the chance to donate a small amount of money from each paycheck. In exchange for the donation, employees wear jeans each Friday. For 2019, SSB bought an iPad for a 4-year-old boy named Caleb, and gave it to him and his family (including his siblings, parents and grandparents) at a celebration held July 25, 2019. The iPad makes it easier for Caleb to "live life and enjoy it" despite his physical limitations and communication difficulties.
SSB staff collected donations from bank employees in support of a bookbag drive for homeless students living in shelters throughout the Pittsburgh region.
SSB partners with the Federal Home Loan Bank of Pittsburgh and its Home4Good grant program.
SSB assisted in funding a $100,000 grant to allow the Allegheny County Community Health services chapter to double its outreach to local families and individuals struggling with behavioral health disorders.
If you want to see the impact that SSB's programs are having, consider Caleb, whose story was discussed previously. In particular, Caleb's parent's and the bank's president all expressed their appreciation for the iPad Caleb received. Kevin, Caleb's father, said, "We appreciate all the sponsors and we feel blessed to be a part of this program. Certainly, it will help Caleb to live life and enjoy it, so we are really grateful."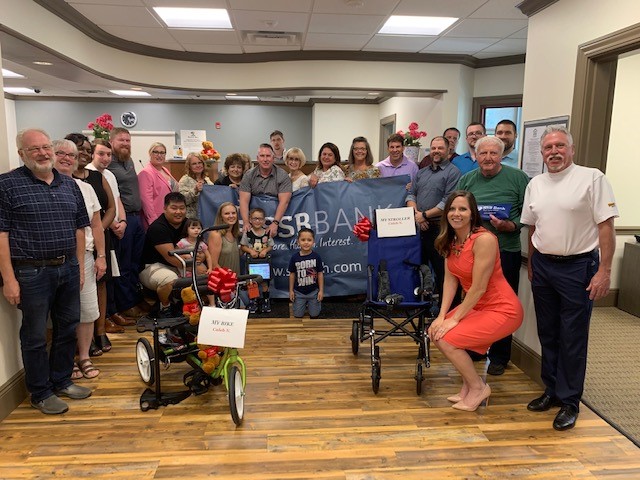 Caleb's mother, Crystal, said, "He has been working a lot with the iPad in his speech program both in school and in outpatient therapy. It will be nice for him to have this [iPad] at home for him to practice his skills [and increase his vocabulary]. He has come a long way, but this will continue to help him improve with his speech. We are so thankful for the program and all of the sponsors. You make it all happen."
Dan Moon, the president and CEO of SSB, represented the bank and its employees when he spoke about the impact of helping Caleb. He said, "Every year, we thought we had to wait until Christmas to do sponsorships and to sponsor a family. Fortunately, in 2018 we found Variety and the Bank was able to do something [during the year] … [This] past year, we were able to give a voice to a child; it is just a no-brainer. We live for this. We love to give money out of our paychecks to wear jeans so that we can do things like this. We are proud. We are excited. Congratulations."
Initiatives like this and the others described previously are what make SSB Bank stand out from the other financial institutions out there. SSB Bank is an institution that puts its mission and values into action for the communities it serves. Each project SSB Bank participates in or leads holds significance, and bank employees look forward to continuing to serve their communities in the coming months and years, especially during these trying times.
For more information about PACB and other community banks like SSB, feel free to check out their website: www.pacb.org