Savings Account versus CD: Which is Best for Me?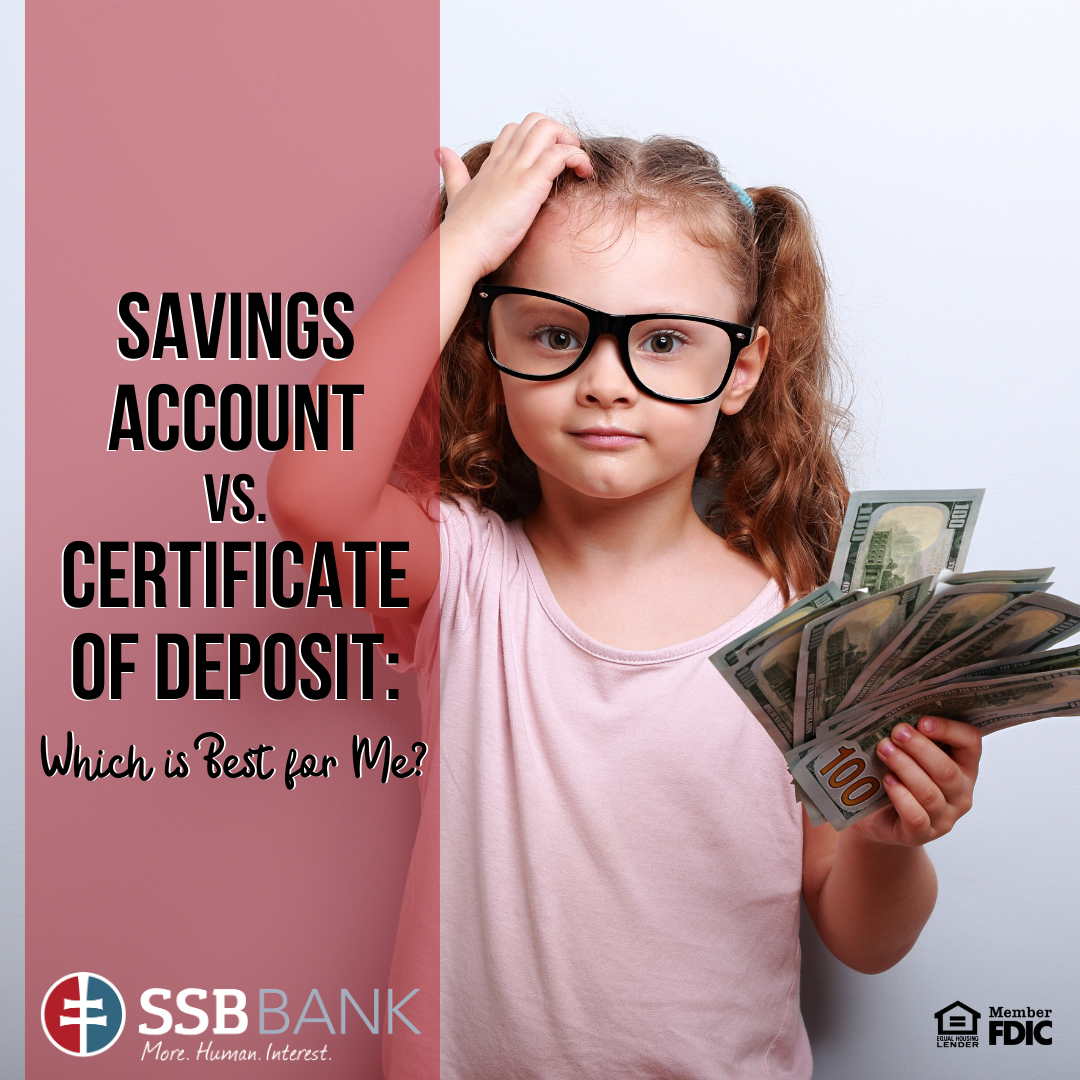 Depending on your current financial situation, your ongoing financial needs and your short-term and long-term financial goals, there are varying benefits between the many savings products out there. For example, at SSB Bank there are two savings products available for our customers: Certificates of Deposit and Savings Accounts. Both products have some similarities but they function differently depending on your ultimate goals. It is important to have some key questions answered before you can truthfully determine which savings product is best for you.
Savings Accounts vs. Certificates of Deposit (CD)
In short, savings accounts provide more flexibility when it comes to accessing your funds. Certificates of Deposit (also referred to as CDs) generally provide higher rates of interest, giving you a bigger return in the long run.
Just like with anything, though, there is not a definitive answer as far as which product is better. It is all relative to how much money you are investing and how long you're willing to leave your money parked in your account.
Savings Accounts
A savings account is a product that earns various rates of interest (some low yield and high yield products are available) while still allowing you to draw from your growing funds. Depending on the amount of money you are willing and able to set aside in this account, you can take advantage of above-average interest rates.
Savings Accounts are a great product for individuals who are:
Looking for a flexible account that can gain some interest but allow access to the funds if necessary (up to six withdrawals per month)
Comfortable with a rate that cannot be guaranteed for the life of the account, but still remains competitive
Interested in opening an account for emergencies, vacations or other short-term goals and need a separate place to hold their money to ensure it isn't spent unnecessarily.
If you think a savings account sounds like the product that fits your current financial goals, check out our competitive rates on our Savings, Money Market and Christmas Club accounts.
CDs
CDs are a type of deposit account that pays a higher rate of interest than a standard savings account. In return, your access to the funds is restricted during the certificate's term- usually ranging anywhere from a few months to a few years.
What does that mean? In most cases, you have to be prepared to let your money sit (untouched) for a period of time, unless you're willing to pay a penalty for cashing out early. Additionally, depending on your bank's policy, you could be forced to forfeit a portion of your earned interest.
Ultimately, CDs are a great savings tool for individuals who are:
Have funds available that they are willing to set aside
Are certain they won't need access to those funds for at least a year
Looking for a slightly higher return on their investment with lower risk
If you think that a CD sounds like a great investment tool for your excess funds, check out our current rates and specials.
*NOTE: The ad used in this section refers to a current promotion running at SSB Bank as of 10/21/2019. Rates are subject to change at any time. For accurate rates and specials, please visit our Rate Page.
Additional Savings and Investment Products
Of course, there are other high-yield (and higher risk) products on the market that are available for those who are looking for a more return on their investment. From IRAs to mutual bonds, there is a world of options out there. You have to know how to manage your money and balance risk vs. reward.
It is always important to consult a financial adviser or professional who can guide you on the right path to reach your financial goals. Knowledge is power when it comes to investing and saving your money.
Need information on our savings, investment and retirement products? Please contact our branch or submit your question below. One of our staff members will provide you insight on our offerings.