Humans of SSB: Dan Turo, Turo Family Chiropractic
One of Dan's favorite quotes is, "When your vocation is your vacation, you never have to work a day in your life." When you sit down and talk with him, you realize that he just "gets it". He understands the importance of family, the impact of superior customer care and the value of reinvesting into the community in which he serves.
Dan is the owner and sole Chiropractor at Turo Family Chiropractic in the North Hills of Pittsburgh, which has been open since 2011. With nearly a decade of practice under his belt, Dr. Dan has established a business that the community trusts not only for their chiropractic needs but as an educational resource in the healthcare industry. Dan's passion for chiropractic care began prior to the end of his high school career with the opportunity to participate in an anatomy and physiology class.
"I fell in love with the human body's structure and function. I knew I wanted to do something in the healthcare field. I looked into physical therapy, becoming a medical doctor, a number of professions… chiropractic seemed to call to me the most because of its philosophy that the body is self-healing and self-regulating. It made sense with my personal philosophy and what I understood about the world. It gave me the best opportunity to provide that to patients."
He mentions that he will often tell his patients and community members that he was "called" to chiropractic care. After growing up sick with lots of ear infections, asthma, and allergies, Dan has experienced first-hand the positive impact chiropractic care has on your quality of life. In addition to general dietary changes and more involvement in physical movement through athletics, he saw a significant improvement in his health when he added regular adjustments to his healthcare routine as a young adult. He says that his body essentially "woke up" over time using chiropractic care to support his health and wellness. For example, he is barely impacted by asthma or allergies, which were a huge barrier in the past for him. Additionally, knowing the benefits of this type of care, Dan has raised his children with this same philosophy. As a result, his kids have not taken medication of any form since they were born.
"My kids are some of the healthiest kids I know!"
Dan will be the first to tell you that not all chiropractic care is equal. In fact, he is the only certified practitioner in South Western Pennsylvania that utilizes a very in-depth method of analysis called the Pierce Results System. Utilizing the technique and technology required by this system of analysis, Dr. Dan can determine everyone's health needs at every visit and customize their care for optimal results. Not only does that provide relief to patients, but a deeper trust in his care. The two types of technology that he utilizes during this analysis include the Dynamic Motion X-Ray and Infrared Thermography Scan. Both tools provide him a very in-depth look at your spine and nervous system function, allowing for a very specific adjustment without any guessing. Additionally, there is no popping, twisting or cracking at his office. Using a drop table for adjustments, Dr. Dan can provide his patients a very comfortable, safe and effective adjustment, which most prefer over the more traditionally used methods.
More than that, the environment you experience when you walk into his office speaks for itself. His staff are welcoming, knowledgeable and personable. They are invested in the patients and it can be seen in everything they do. From offering you drink as soon as you walk through the door, to ensuring a smooth transition throughout the appointment, his office is an example of a well-oiled machine led by individuals that love what they do, which is a clear differentiator between their practice and others in the industry.
Although he has a pretty fluid system now, Dan admits that building a successful practice took time, finances and a willingness to push through the uncomfortable times at the start of the process. Although his decision to open his own practice was undoubtedly the necessary next step after some time in the field, he also recognized that taking the leap into owning a small business came with a price tag- not only financially but personally as well.
"One of the biggest challenges [I faced] was getting financial support to open the business. I was very blessed to have family members that were willing to invest in us."
With that financial investment from family, Dan has found the means to not only pay back his family members but to grow the business and give back to the community in a relatively short period of time.
Coincidentally, that challenge produced one of his proudest moments as a business owner as well.
"One of the biggest and proudest moments was the first month of practice when we were at the tail end of all of our money and if we did not make money in that first month, if we did not meet our overhead, I didn't know what we would do. We were tapped out everywhere. If we didn't have patients come in and see the value we provided, we wouldn't have made it to a second month. But we had enough people come in and believe in our services to get us over that first month. That was a huge accomplishment for me and for the business."
Along with his professional accomplishments, Dan can't say enough wonderful things about his family. His family is in the office and they play an integral role in the growth of the business. His wife, Erin, helps to manage the office and his sons are frequently in the office visiting or receiving chiropractic care. Dan is very thankful that his business has allowed him the ability to intertwine his family into his passion. Balancing family and business is not always easy when running a small business, but the Turos make it look easy. It's as simple as making family a priority and setting aside time that won't be compromised. For example, Dan mentioned that they take a family vacation every year, whether it's a long weekend or a full week trip. Business is important, but Dan won't let that interfere with this yearly tradition.
Looking back at his journey, you can see the pride and passion that exudes from Dan when he speaks about his accomplishments. More so, Dan has so many goals and aspirations for the future of his business- he's not done yet. In the next ten years, he is looking forward to continuing to develop and grow his team. With that growth, it will provide the business the opportunity to continue to reach more individuals in the community and make an even greater impact. He would love to conduct research on the Pierce Results System and how it has impacted his clientele. Most importantly, he hopes to become a mentor for other young chiropractors in the field. He wants to give back to those who are equally as passionate about the industry and help them to achieve success.
For more information on Turo Family Chiropractic or Dr. Dan, please visit their website or Facebook Page.
If you or someone you know is interested in bringing their business to SSB Bank, please feel free to contact us to sit with one of our staff members and discuss the advantages of banking with us to support your business growth.
Digging Deeper with
Dr. Dan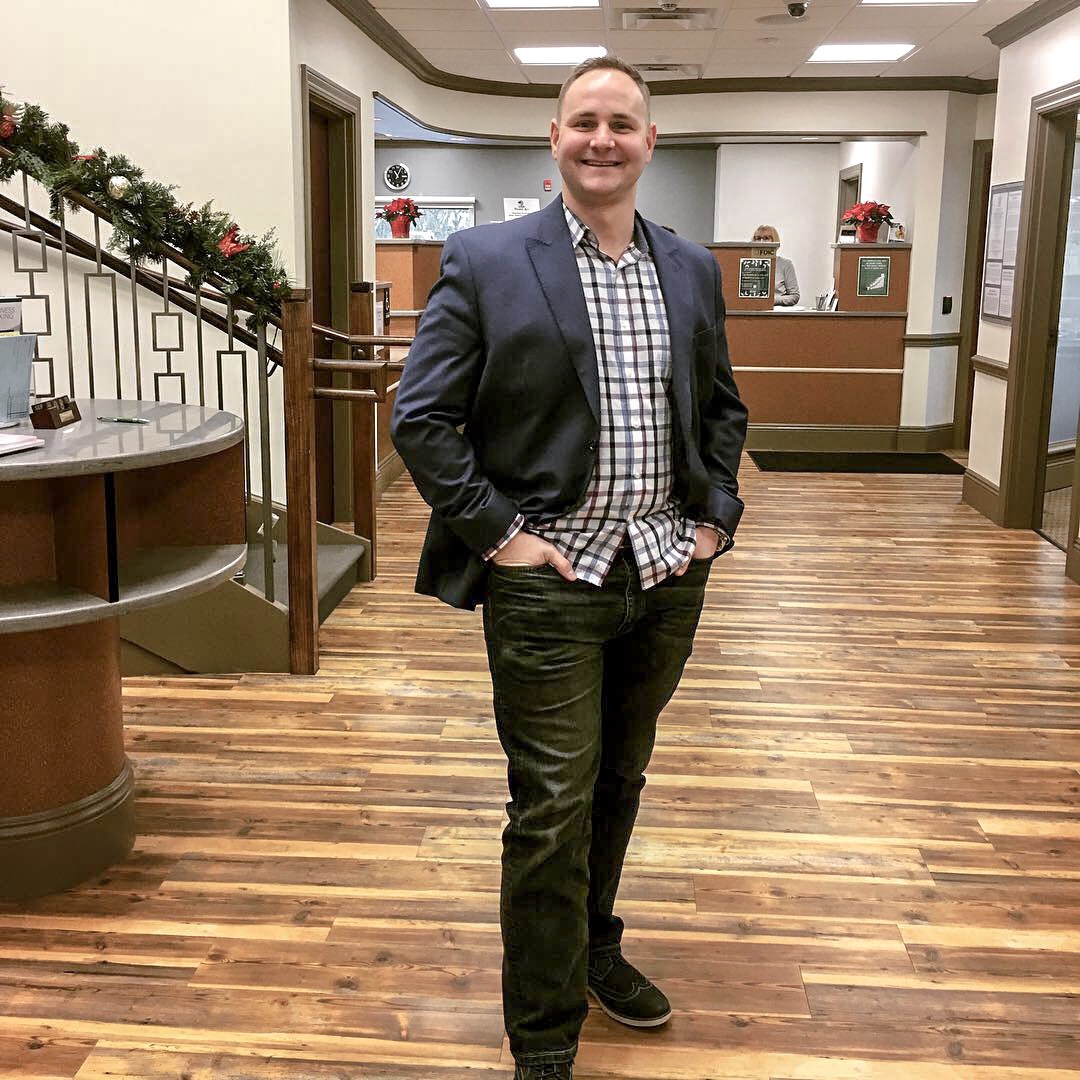 What words of wisdom would you provide to someone looking into opening their own business?
Do something you are passionate about, not just as an outlet for financial stability. Owning your own business doesn't always provide stability and requires a lot of work and dedication. You need to do something that will get you out of bed in the morning.
---
Are you Messy or Organized?
Messy
---
Personal Mantra:
"Get healthy, stay healthy for a lifetime." - Turo Chiropractic
---
Favorite Book or Blog that you would recommend:
Anything by John Dimartini or part of his institute. I also enjoy Tim Ferris, and Grant Cardon, just to name a few.
---
If you could interview one person (dead or alive), who would it be:
Jesus Christ, just to get a better understanding of what he went through.
---
I am happiest when…. helping others, whether it is my family or others.