Community: It's Not Just Part of Our Name, It's Part of Our Mission
We say it all the time... being a community bank holds significant value to us. We recognize that there is more to being a community bank than saying you're a community bank; it is important to put action behind it. Throughout the year, and especially during the holiday season, we do our best to participate in a variety of volunteer and donation projects to try and spread joy and hope in our communities. Over the years, we have established some ongoing partnerships and we've also stepped into some new ones along the way. The main thread among all the efforts is the focus on helping those in the communities we serve in the city and suburbs of Pittsburgh.
This year, we focused on four specific giving events from Thanksgiving through the holiday season. Some involved just our staff and others pulled in some of our local community.
"Get Stuffed with Love" Volunteering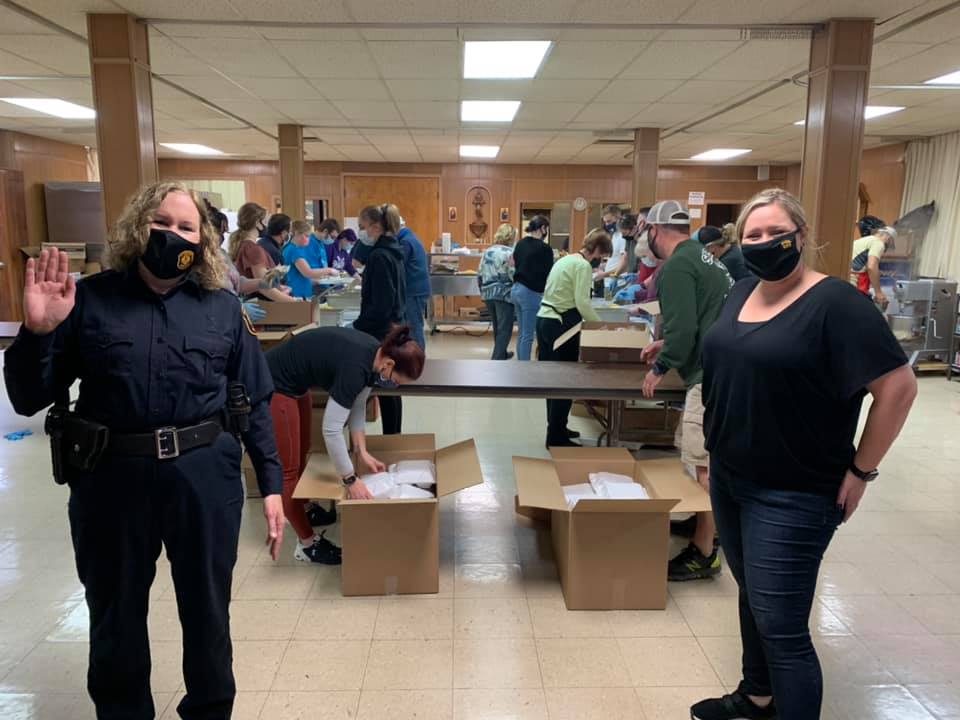 Heather Dieckmann (on the right) organizes the annual "Get Stuffed with Love" event between the Rotary, Holy Assumptions of St. Mary Orthodox Church.
Photo Credit: Scott Eric, Bureau of Police - Pittsburgh
Our Consumer Loan Supervisor, Heather Dieckmann, works tirelessly each year to help organize the annual "Get Stuffed with Love" event that feeds city of Pittsburgh families in need. Over the last 17 years, the event has grown from serving 250 people (including individuals who are homeless, shut-in, disabled and those in need) to serving over 4,000 meals this year on Thanksgiving. Between The Rotary Clubs of Bethel - St. Clair and Northern Allegheny, along with Holy Assumption of St. Mary Orthodox Church and the Bureau of Police, and the many volunteers that give their time the day before and day of the event, there are families that can put delicious Thanksgiving meals on their tables. Throughout the years, various staff members of SSB have volunteered the day before and day of to assist with preparing the meal items. This year, due to COVID-19 related concerns, the staff at SSB came together at our branch to help Heather portion cranberry sauce for all of the meals the night before Thanksgiving. It was a wonderful opportunity to come together (safely) as co-workers for a cause bigger than all of us! Additionally, Dan Moon (our CEO) joined Heather on Thanksgiving morning to help organize for meal distribution. We appreciate Heather's leadership in this project each year and allowing us the chance to participate.
Variety the Children's Charity Communication Device Sponsorship
Each year, we have come to look forward to partnering with Variety the Children's Charity to support local kids with physical and communication needs. There is an unmatched level of joy we feel when you see the excitement on their faces after receiving a communication device, a stroller or an adaptive bike. You know, without a doubt, that the device is going to enhance their day-to-day lives. More than just the kids, their families are equally appreciative. In years past, we've been lucky enough to hold a special event on-site to gift the kids with their device(s). Unfortunately, with COVID restrictions, in order to keep families safe, we had to forgo our usual ceremony... but it didn't make the act any less sweet or enjoyable for us. Through partnership with Variety, we were able to gift a communication device to a local boy in the North Hills just in time for Christmas! We look forward to many more years of supporting this amazing program through our Jeans Day contributions each paycheck throughout the year.
YMCA - Northside & Pittsburgh North Regional Chamber Angel Tree Project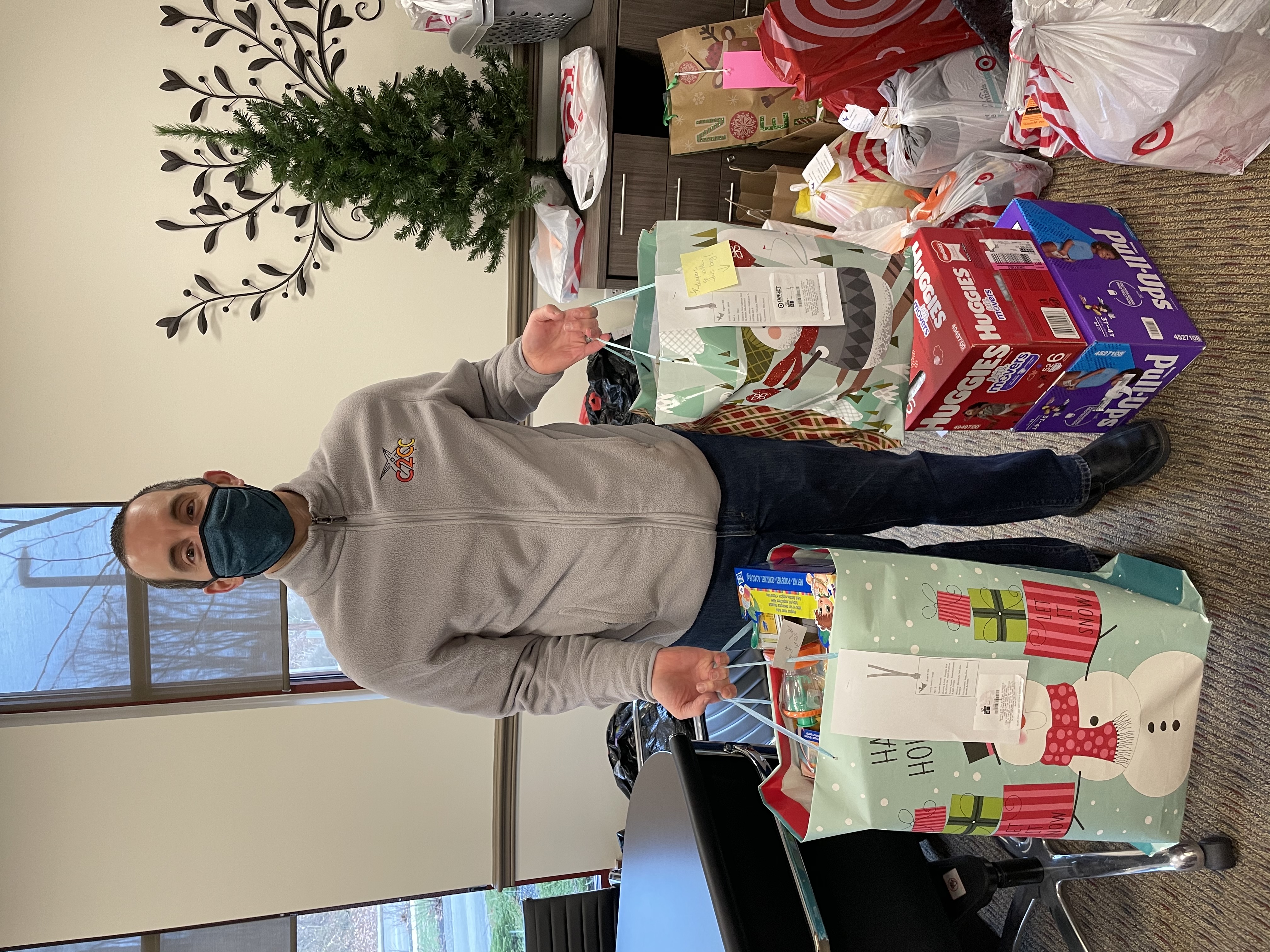 Jason Vallozzi, owner of Campus and Career Crossroads, is a fabulous community partner that participated in our Angel Tree Project this year. Big thanks to Jason and his commitment to our efforts.
For the third year, we have partnered with the Northside Family YMCA and the Pittsburgh North Regional Chamber (PNRC) to participate in an Angel Tree at our branches. We love the Angel Tree project because it allows us to show for specific wish-list items for kids and adults, as collected by various non-profits throughout the city communities. Over the years, the program continues to grow, with nine non-profits participating this year through the PNRC, in addition to the requests provided by the YMCA. This year alone, we provided 60 individuals (kids and adults) with their requested gifts for the holiday season. Through shared partnership projects like this one, it allows us to spread our giving even further.
Every Child, Inc. Family Sponsorship
"Every Child, Inc. was founded in 1997 with the belief that all children, no matter their age, race, disability, or special health care need, deserve the opportunity to grow up with a loving and lasting family. Initially focused on providing care and support for foster children with significant medical needs, Every Child has broadened [their] services to provide foster care and adoption services, as well as clinical and therapeutic care to children and families across Southwestern Pennsylvania." Every Child's core values align beautifully with SSB Bank: Empowerment, Collaboration, Inclusion, Excellence and Growth. Additionally, we have a strong tie to this program through some of our staff that are actively involved in their program. So it was an easy decision for us to make when we were approached to sponsor a family this holiday season through one of their Holiday Helper Programs. This allowed us to not only fulfill the family's holiday wishes for gifts that could be under the tree, but we also shopped for supplies and meal items to make sure the holiday celebrating could go off without a hitch!
We hope that this year, even in the midst of difficulty and uncertainty, that we can all find a way to give back to those that need it a little more than each of us. As we've stated many times before in conjunction with our efforts, it's not about the financial aspect, but the act of giving in anyway you can. Simple gestures like sharing information about a local cause, volunteering your time, or even donating unused items you have at your own house could be just what someone needs to lighten their load and help ease their mind this holiday season.
---
Learn More
If you'd like to learn more about our other community partnerships, or you are interested in working with us on a community project, please head over to our Community Connections page. Additionally, you can contact us for more information on how to partner with SSB!