5 Reasons You Should Break Up with Your Bank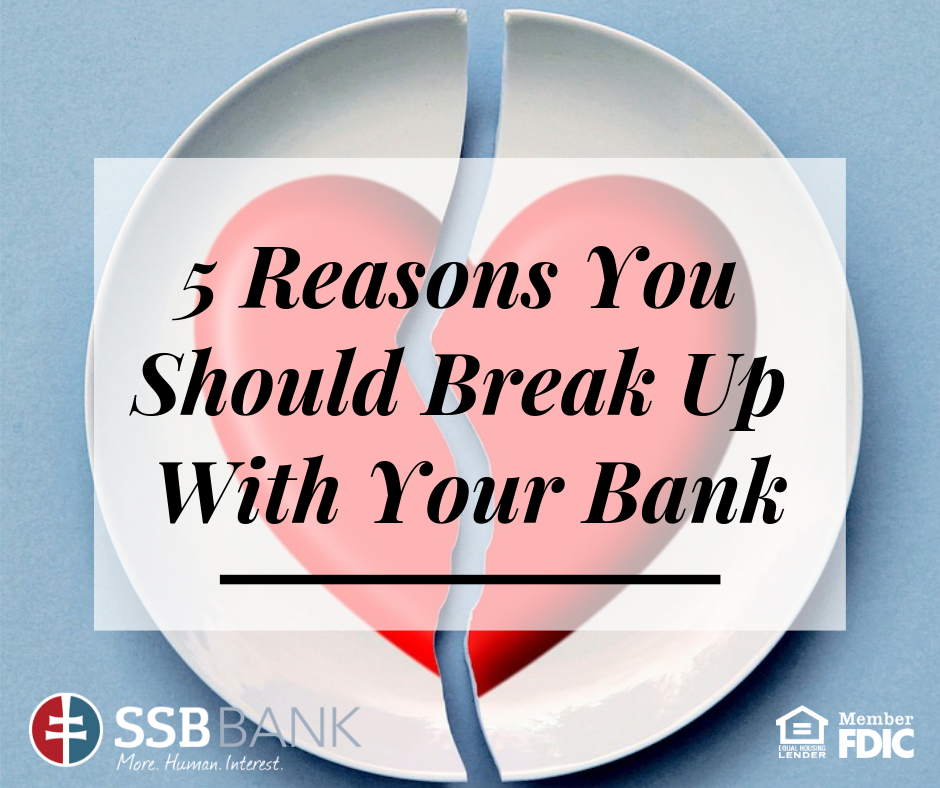 Even though many of us find it hard to stick to our commitments - resolutions for the new year, gym memberships, healthy diets, etc. - you would be surprised how many of us stick with our financial institution even despite feeling unhappy or underwhelmed with the relationship.
According to a survey that was conducted for Bankrate and MONEY in 2017, the average U.S. adult has used the same primary checking account for about 16 years, with more than a quarter (26 percent) have held onto a checking account for more than 20 years.
You may be wondering why those individuals continue to stay in a relationship with their banks for that long. For starters, let's be honest- switching banks can be a hassle. Who wants to go through all of the steps of updating and revising your account information for all of your monetary obligations? (NOTE: Check out SSB Bank's Switch Kits for a step-by-step guide that makes switching banks hassle-free) But at what point is enough considered enough?
We compiled a list of 5 reasons that you should break up with your bank today and establish a relationship with an institution that will make you love banking.
1. Astronomical or "Fine Print" Fees
From monthly service fees to ATM fees, there is likely a long list of known (or hidden) fees that are tacked on to your bank statements each month. A few dollars here and there may not seem like much, but in the course of a month it can add up! For example, the average ATM fee for out-of-network machines is around $3.00. If you use ATM's frequently, maybe an average of 10 times a month, you are looking at around $30 in additional fees each month for the use of ATMs alone. That's not taking into account the other fees your bank may be tacking on.
Moral of the story? Bank where "free" means "free". At SSB Bank, for example, we waive ATM fees at out-of-network ATM's worldwide, with no maximum number of transactions over the course of a month. See what we mean?
2. Customer Service (or Lack Thereof)
In the age of digital everything, there are some things that are better without the digital upgrade. Customer Service is one of those things we are referring to here. We have all said it before- talking to a robot or having to push a handful of buttons before getting to talk to a "person" can be one of the most frustrating things when you are already in the midst of frustration with a question that needs to be answered. Why add additional steps to something that should be simple?
If your financial institution is less than responsive, doesn't find solutions that work for you, or provides you cookie-cutter support, you should be receiving more.
You should feel like your needs are a priority when you contact your bank. At SSB Bank, when you call our "Customer Service" line, it takes you straight to a member of our staff who will walk you through your issue and help to find a resolution as soon as possible. What is better than that?
3. Less than Enticing Interest Rates
One of the best reasons to have your money at a financial institution is the benefit of earning interest on your funds while you save them for retirement, a future project, or even an emergency. The benefit? It doesn't take any work on your part other than the original deposit and any additional deposits you'd like to make. The interest does all of the work after that!
There are tons of offers and competitive rates out there. Do your research! Don't believe that the rates your bank is offering are the best out there until you've seen the proof. At SSB Bank, "the proof is in the pudding". We are always looking to remain competitive with our interest rates, offering some of the highest in the industry. Just take a look!
4. Lack of Services and Products
With all of the new bells and whistles available in the banking world, there is no reason your bank shouldn't have them to offer to you. From mobile and online banking to competitive and unique banking products, you should have options that suit your needs as they evolve. No one wants to have a handful of banks dealing with all of their different needs: one bank for mortgages, one back for day-to-day banking, one bank for your investments. If you are shopping around for other institutions to hold your funds for various projects and goals, you should consider finding one that meets most (or all) of your needs.
One thing to do is to look at all of your banking needs and determine what institutions can support them. If you are someone who doesn't like to go to a physical branch, you should be banking where the online and mobile services are available and dependable. If you are a customer who does a lot of deposits after hours or on the weekends, you should ensure that the bank you use has ATMs available in convenient locations or on-site hours that fit your schedule. These are just a few examples to consider (or reconsider) if your bank offers less than suitable products and services.
At SSB Bank, we offer a variety of personal and business products and services to allow us the ability to support anyone that walks through the door. Check out some of our business and consumer products and see what we're talking about!
5. Consolidation
Having your funds spread out is not unusual by any means, but the convenience of having a majority of your funds in one place is something that may be enticing enough to make you consider consolidating.
Maybe you are in the midst of a life-changing event? If you're moving, getting married, or even just reassessing your financial needs for better options, looking for an institution that can help you manage a bulk of your needs can take away some additional stressors and help you focus on other things. Having an institution that makes switching and consolidating easy is half of the battle. Look for a bank like SSB that offers an easy to manage Switch Kit for your needs and help make the decision to consolidate easier.
With a lot of different things going on in our lives, it is easy to move something like "switching banks" to the top of our priority list. But if any or all of the above apply to your current bank relationship, "breaking up" with your bank might be worth considering. Doing so could help you to eliminate added stress, save hundreds of dollars by scoring a higher interest rate or avoiding monthly fees, and add convenience to your life. There are so many banks to choose from just in our city alone, but it is important to do your research! Pick the bank that fits your needs and goals. Pick a bank that makes you love banking, not cringe at the thought of it.
At SSB Bank we know how to put the joy back into the banking relationship and we'd love to show you how! If you are interested in learning more about a hassle-free, worthwhile banking experience, contact us and we can show you what sets us apart from the others!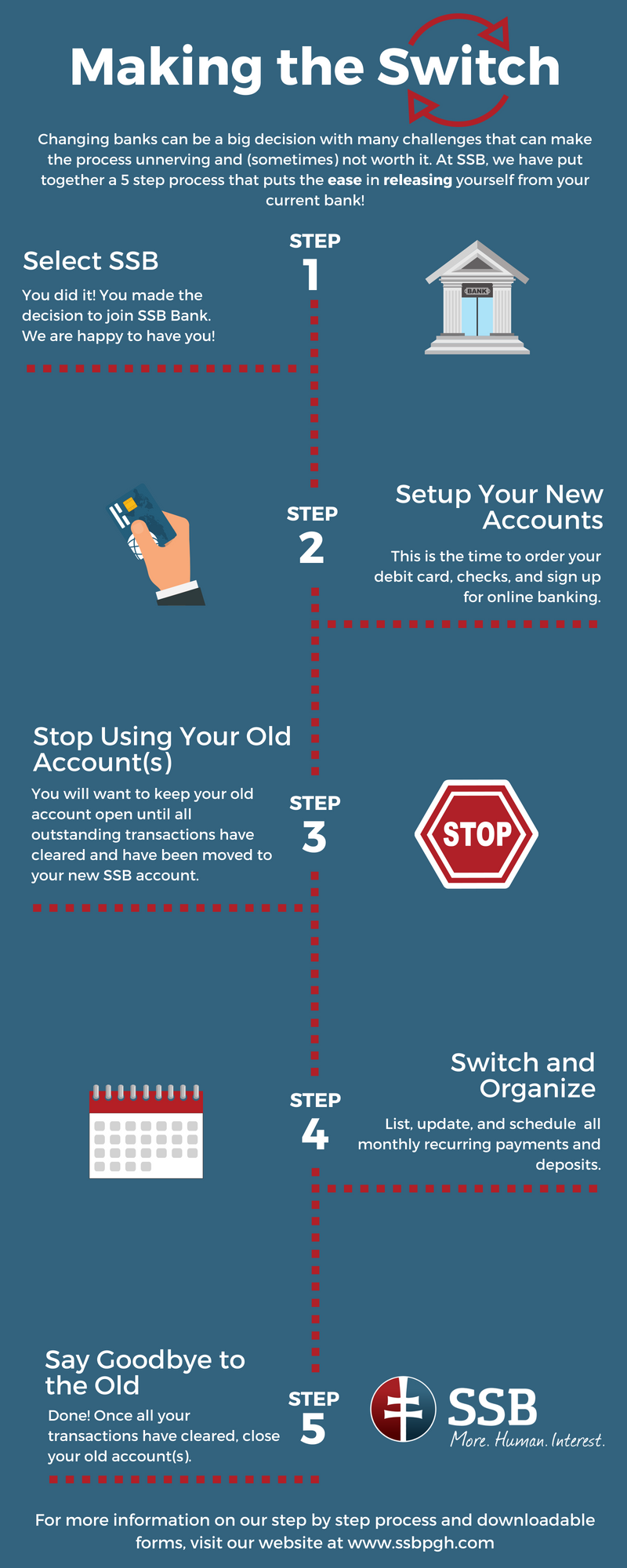 Check out our
Switch Kits
that will make your break-up a little bit easier to manage! We have one specific to personal and business banking!