2020 Financial Fitness Challenge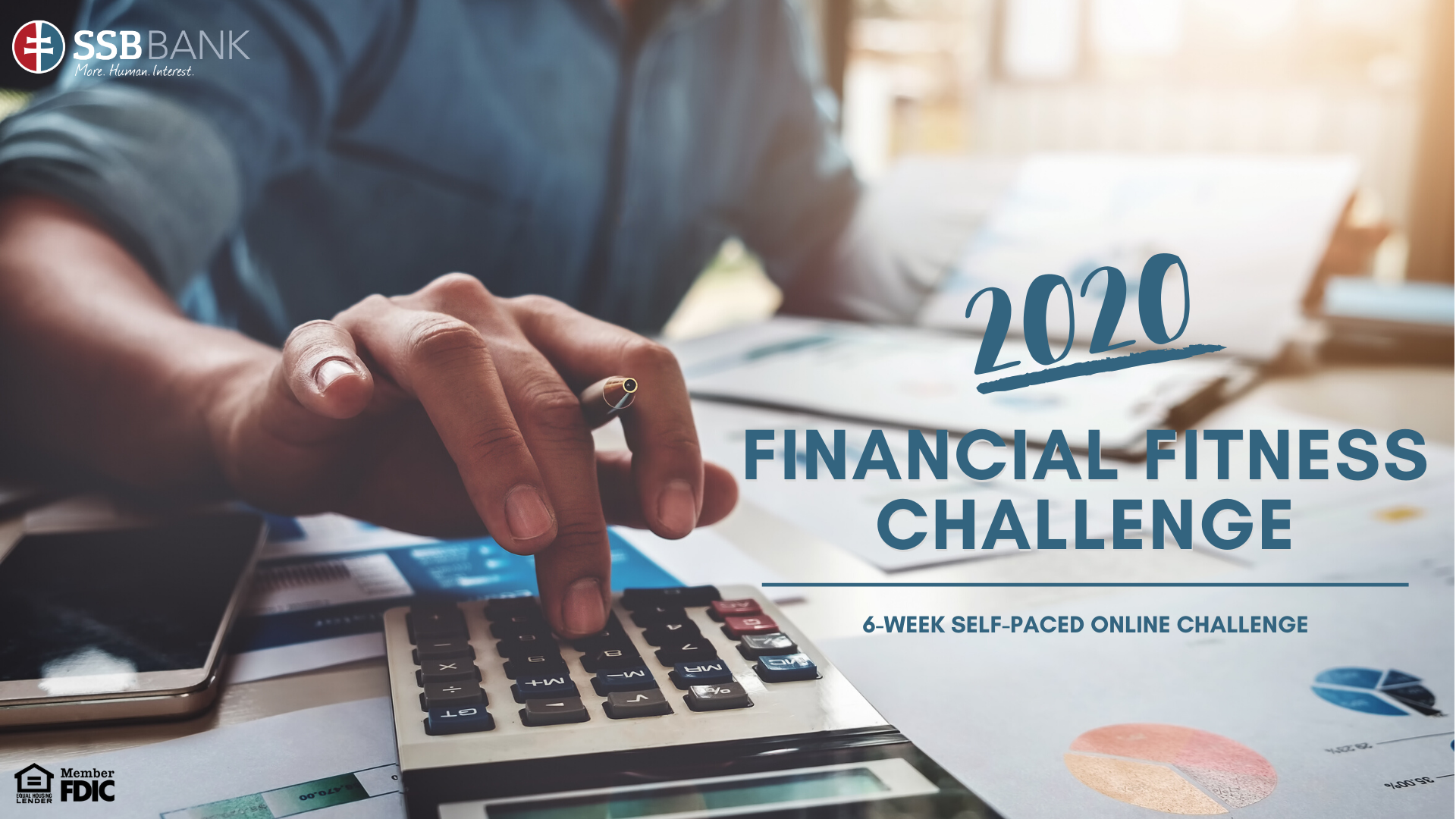 In a recent article published on Best Money Moves, they share new research completed by Morgan Stanley highlighting the impact of financial wellness on employee productivity. "Nearly four in five employees (78 percent) with high financial stress say that they are distracted by financial stress at work".
In another survey, Millennials admit to putting off building an emergency fund, saving for retirement, buying a home and getting married due to student loan debt.
With the new year approaching, many of us will use this as forward motion to jump-start new initiatives or enhance some habits we have already established. At SSB Bank, we want to continue to reinforce our position as more than just a financial institution, but a resource for your growth financially and personally.

Last year, we introduced our 6-Week Online Financial Fitness Challenge. The challenge was successful and participants appreciated the resources provided, indicating it helped them become more aware of their financial habits and areas of needed improvement.
This year, we decided to run the Financial Fitness Challenge again, but in a self-paced format. You will receive weekly newsletters with helpful tips, exercises, and activities that will help you determine your individual needs/starting points, printable resources, and much more on developing your financial fitness.

Some of the topics you'll find in the challenge include:
Tracking your Expenses
The Basics of Budgeting
Dealing with Debt
Analyzing your Credit
The Importance of Saving
Implementing Investments in your Financial Plans
Each week's content and activities will take less than 10 minutes to complete, making it easy to add in to your weekly routine. This is a great first step to recognizing what things you can do to improve your financial wellness and increase your knowledge about your personal financial goals. Additionally, individuals that choose to participate and complete the challenge will be awarded a certificate of completion at the end of the course.


So in summary...
What is it? Financial Fitness Challenge
Includes 1 pre-survey, 6 brief two-question activities, 1 post-survey and a handful of resources related to the weekly topics
Who would benefit from participating? Anyone who believes they could benefit from learning the basics of financial wellness. Ideally, this is best suited for beginners in financial wellness, but definitely provides some nice reminders to those of us that are "financially fit".
Why should you do it? To gain a better understanding of your financial wellness and develop skills to go into the new year with a more effective plan for your finances in 2020.

How long does it last? 6 weeks (1 weekly email newsletter with activities, information and resources)
It can be initiated at your convenience
The activities can be completed during the course of the 6 weeks and if completed during that time-frame, you will be awarded a certificate of completion.
Where do I participate? Online


Are you willing to accept the challenge and enter into 2020 with 20/20 vision for your financial wellness?